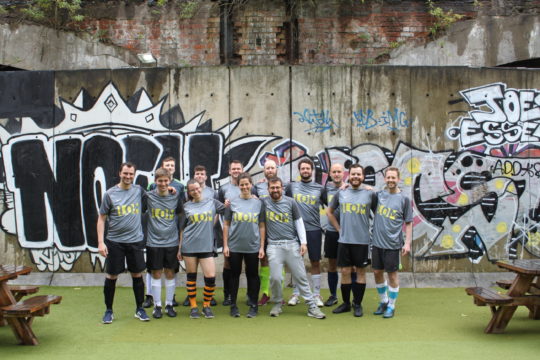 LOM is delighted to announce that our recent 5-a-side football tournament has raised £10,000 for Queen Elizabeth's Foundation (QEF) for Disabled People.
19 teams took part in this year's tournament, which was held at Powerleague Shoreditch on 13th June.
WSP were the overall winners for the second year running. MZA Consulting Engineers were the runners up. Willmott Dixon Interiors took home the plate and the MJ Bushell team were plate runners up.
The event was LOM's biggest football tournament to date and involved a wide range of teams working across the built environment. The teams were: 8 Build, Bureau, Chapman BDSP, Conisbee, Curtins, Elliott Wood, ISG, LOM, M J Bushell, McBains, McLaren, Mesh CC, MZA Consulting Engineers, Overbury, Hydrock, Willmott Dixon Construction, Willmott Dixon Interiors and WSP.
The money raised at the event is going towards QEF's Care and Rehabilitation Centre in Leatherhead, Surrey. The new centre is designed by LOM and will provide a specialist care service for people with complex disabilities and neuro-rehabilitation for those with an acquired brain injury.
Director, Richard Hutchinson said: "Thank you to all of the fantastic teams who have taken part in the tournament – there was tough competition and also some great team spirit. The event has raised much-needed funds for QEF's Care and Rehabilitation Centre which is due to open next year".