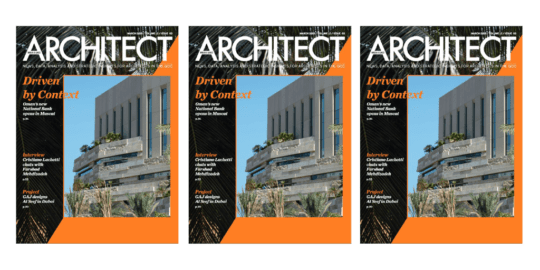 The flagship headquarters building for the National Bank of Oman (NBO), designed and delivered by a joint venture between LOM architecture and design and Ibrahim Jaidah Architects and Engineers, is the cover story of this month's Middle East Architect magazine.
In her article Rima Alsammarae, editor of Middle East Architect, explores how NBO's headquarters has been driven by its context and reflects Muscat's local architectural language. The contemporary building is inspired by Oman's landscape, topography and traditional architecture. The building is rotated on its site in order to face the Grand Mosque and mountains, creating an accessible pedestrian plaza as a new public space for staff, visitors and the community. The central atrium – inspired by the form of Oman's wadi gorges – delivers a series of dramatic internal spaces which balance public access with security requirements to create a semi-public event space. Integrating native planting into the façade and public realm means that the building will evolve over time and become part of the future landscape of Muscat as the city develops.
Middle East Architect is the region's monthly architecture magazine features updates, profiles and in-depth case studies in each issue.