Our new extension for Cedars Youth and Community Centre in Harrow Weald has created much-needed meeting and workshop space for the local community.
The centre, which is managed by Watford Football Club's Community Sports and Education Trust, provides a range of sports facilities and space for community activities. Since it opened in 2012, it has grown in popularity and needed extra space to accommodate a wider range of people.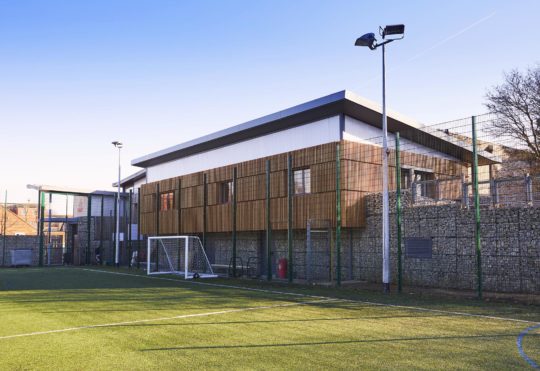 We originally designed the centre and were delighted to be asked back to help. Completed in February 2019, the 194m2 extension provides space for Mencap, a leading charity supporting people with learning disabilities, and flexible workshop spaces for local community groups.
Steve Williams, Head of Facilities and Inclusion says: "Since opening in 2012, the facility has been extremely successful in supporting the community, offering football, dance, education, health and wellbeing, and a wide range of social events. A key component of our delivery is being able to demonstrate the social impact our work has within the borough. As a result, we decided to ask LOM back to help us with this vital piece of work which will allow the centre to support the needs of a more diverse base of users than was previously the case. We feel the end result is an attractive design which integrates extremely well with the existing building."
To find out more about the project, check out our Cedars Youth and Community Centre page.