Noah's Ark Children's Hospice recently opened their new building – The Ark – in Barnet, north London. LOM donated our skills and time for free to design key interior spaces that take inspiration from the building's nature reserve setting.
Noah's Ark Children's Hospice provides support for babies, children and young people with life-limiting or life-threatening conditions and their families in North and Central London and the borough of Hertsmere.
The Ark is the first new hospice to be built in London for more than 10 years and has been designed by architects Squire and Partners. The 2,200sqm single storey, butterfly shaped building is situated on a 30,400sqm nature reserve.
LOM's concept designs for the reception and office interiors were influenced by the building's unique setting. Our scheme features warm, natural finishes with pops of colour, different textures and greenery.
The inviting reception space was inspired by the surrounding countryside. The reception desk, with its undulating hills and softwood ply that resembles picket fencing, curves around into a comfy seating area. There are also a series of tree-shaped screen dividers.
LOM's designer, Maliha Haque said: "Noah's Ark Children's Hospice is an amazing charity and we are proud to have helped them create such a welcoming, family-friendly and versatile environment."
We also worked closely with Tsunami Axis to select furniture for the central hall and the office space.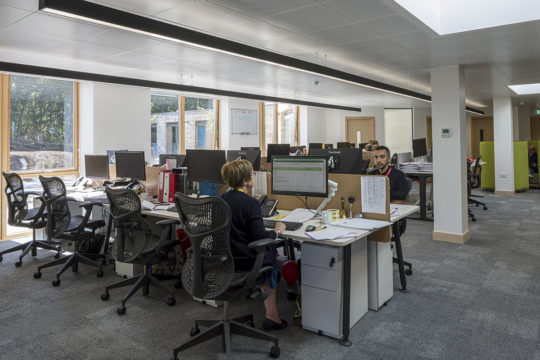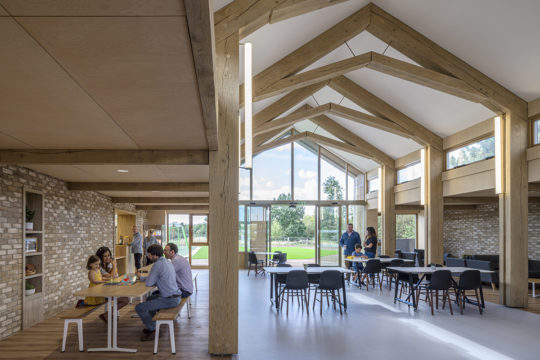 Alison Goodman, Director of Income Generation and Communications at Noah's Ark, said: "We're so grateful for all of the magnificent support provided by LOM in helping us to build The Ark. Their design of some of the key interior spaces – particularly the atrium – has created a space of light and life, where children and families feel completely comfortable and at home. The link between design and wellbeing is clear for people to see as soon as they step into The Ark."
The building was officially opened by the Mayor of London in September 2019.