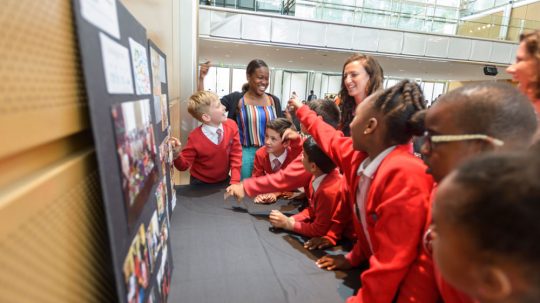 Year 4 from Northwold Primary School in Hackney have won 'Best Class Effort', with a little help from LOM, as part of Open-City's Architecture in Schools summer programme.
Chiara, Silvia, Maliha and Kim helped the pupils create different areas of a city based on sketches and ideas the class had developed for the brief 'Design your own open city neighbourhood'.  Pupils from Northwold Primary were presented with a certificate and art materials at a special ceremony hosted by the Canary Wharf Group in the East Wintergarden at Canary Wharf on 14 July.
Northwold Primary School, praised the project saying: "Winning is the icing on the cake. This is an awesome project, lots of fun, learning at its best. Thank you so much."
Pupils' comments: "Our Open City is focused on five elements: work, play, live, move and learn. It's eco-friendly, it provides many health benefits because of its green spaces, and it facilitates easy movement for people travelling around the neighbourhood."
"It was a wonderful experience and I felt good seeing our school in the spotlight." Christabel
"It was fun. I liked the interesting displays and I am proud we had our architecture in a book." Xandriana
Judges comments: "A great submission – real evidence that each child was able to play their part. A very ambitious and high quality project for year 4!"
Made from cardboard, toilet rolls, fabric samples and plastic bottles the class's models included places to live with rooftop gardens; a glass office with water slides; a cultural centre with an art gallery, library and a zoo; and an adventure playground all connected by transport stations with flying dragons.
Open City champion the value of well-designed places and spaces in making a liveable and vibrant city, and the role everyone plays within it. Over 100 submissions were received and judged by Alex Kenny (National Union of teachers), Erin Byrne (Greater London Authority), Richard Crutchley (Tibbalds Planning) and Zuzie Zuber (Open City).
This is the third time LOM has taken part in Architecture in Schools which last year saw over 800 pupils from 19 London schools partner with 60 architects to learn more about the built environment and improve their skills in Maths, Art and Design Technology.