LOM's latest project is the transformation of a historic gingerbread brewery into a delicious and fully accessible coworking space and (b)icycle café.
The 'Old Snowman Brewery' is currently on display at Somerset House in London as part of the Museum of Architecture's Gingerbread City exhibition. This festive event ran from 7 December 2019 until 5 January 2020.
Over 10,000 members of the public voted for their favourite gingerbread creation, and we were delighted that The Old Snowman Brewery was the 5th most popular!
This year's Gingerbread City theme is 'transport'. LOM's cycle-friendly workplace is just one element of this well connected and accessible city. Over 100 architects, engineers and designers have baked and built gingerbread structures ranging from houses and schools to train stations and ski slopes.
Tickets for the exhibition are available on the Somerset House website.
Gingerbread City: The Old Snowman Brewery
The Old Snowman Brewery's treasured ginger beer was once transported all over the city via the Jelly Ferry. Following the rise in sugar taxes however, the brewery was closed and lay neglected.
Now, the building has been offered a new lease of life as a thriving, eco-friendly coworking space and (b)icicle café.
The brewery's revamp, with its new gelatine roof and restored gingerbread façade and chimney, creates a welcoming and vibrant working environment. Its surrounding landscaping opens the building up to everyone with an accessible route that leads right into its centre for snowpeople, jelly babies and 'icyclists'.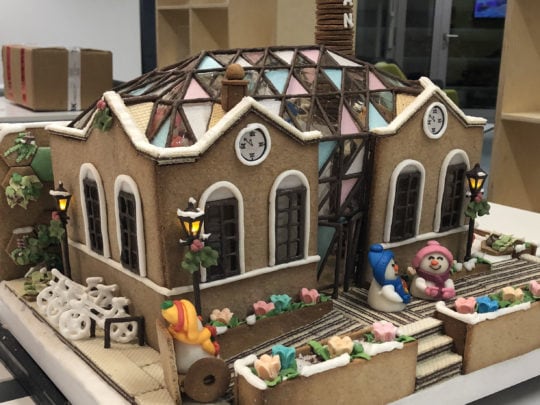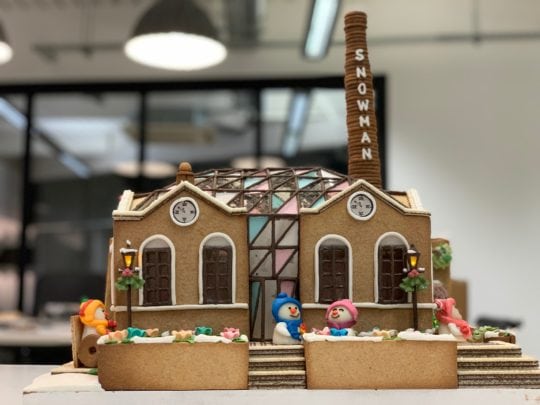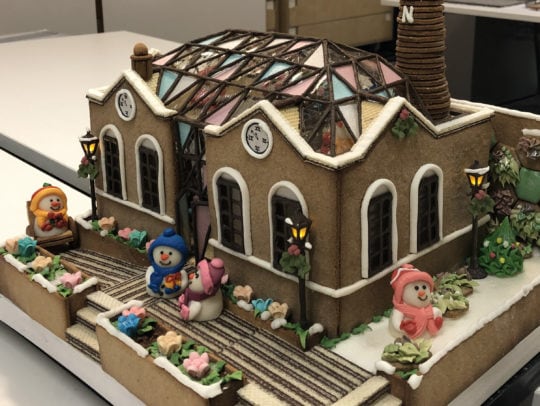 LOM's gingerbread 'bakertechs' were Simon Bird, Chiara Cantilena, Cristie Hammond, Michael Roden and Ruth Wohlgemuth. Their design was inspired by the Truman Brewery building, which is located close to LOM's studio in Shoreditch.
This is the second year LOM has taken part in the exhibition. Last year we produced the three-storey 'Stackopolis' crammed full of sweets and featuring edible solar panels.