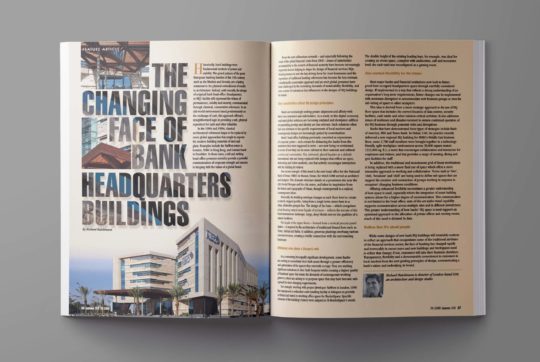 The recent article 'The Changing Face of Bank Headquarters Buildings' by Richard Hutchinson, LOM's director, is featured in THE LEADER magazine.
Richard shares his knowledge and expertise on how the design of big corporate buildings such as banks, that once were 'the fundamental symbol of power and stability', had to be adapted and transformed into a more welcoming, flexible and sustainable workplace environment, aligning their core values with their customers and stakeholders and using the most advanced technology to stay competitive.
As Richard explains: 'Banks that have demonstrated these types of strategies include Bank of America, RBS and Tesco Bank. In Dubai, UAE, the practice recently delivered a new regional HQ building for HSBC's Middle East business. Here, some 2,700 staff members were brought together in a technology friendly, agile workplace environment across 30,000 square meters (323,000 sq. ft.), a move that encourages collaboration and interaction for employees and visitors, and that provides a range of meeting, dining and gym facilities for staff.
In addition, the traditional and monotonous grid of linear workstations is being replaced with a more fluid use of space which offers a more interactive approach to working and collaboration. Terms such as 'hive', 'club, 'breakout' and 'chill' are being used to define sub spaces that can support the creation and contraction of groups working in response to occupiers' changing business conditions.'
Read the full article here.