Director Simon Marett gives his insight into flexible workplace design and some of the strategies that LOM uses to ensure our client's buildings are ready for future change.
Ensuring a workplace can be adapted in the future is usually a core requirement for the office redevelopments we undertake. Whether it is the option of being able to reconfigure a space depending on staff numbers, facilitating different working styles such as co-working or hot desking, or accommodating new technologies, spaces need to be adaptable or it will cost the business more in the long term. These are the steps that LOM takes to design workplaces that can be easily adapted to suit changing business priorities.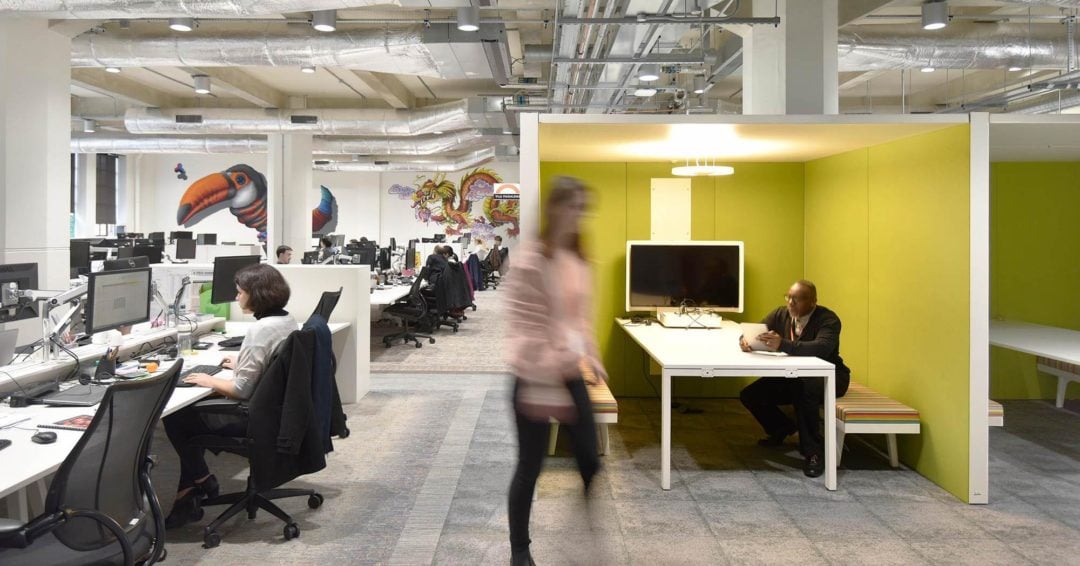 Strategic planning
A clear workplace planning strategy is the foundation of a future-proofed office. This establishes the underlying structure and the 'rules' by which the workplace is planned: which functions are located where, which need to be adjacent to one another, and the primary circulation routes between and around each floor.
Plan to a grid
We map out the floor space in more detail by creating a planning grid. Ideally the grid works with the base-build structural module of the building – comprising the basic structure and the mechanical and electrical services – to reduce any clashes with the proposed design.
Most of the building's mechanical and electrical services should run along the primary circulation routes. This helps to minimise any work needed for future alterations.
Create a workplace 'kit of parts'
Workplace settings are designed as modular components – a kit of parts – that are interchangeable and can slot into the planning grid. These components range from typical work desk banks and meeting rooms, to breakout, workshop or refreshment areas.
The benefit is that any changes to the space will require minimal impact on adjacent areas or alterations to the partitions, floors, ceilings and services, helping to keep costs down.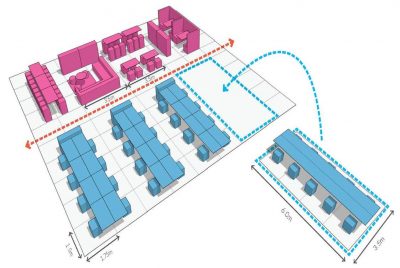 Build partitions to be flexible
We often design enclosed offices and meeting rooms as 'pods' which are built below the mechanical and electrical services in the ceiling. This means they can be swapped out or moved with limited alterations to the services. For areas that require full height partitions we avoid alterations to the ceiling and services in the void above by stopping the partition at ceiling level and use an acoustic quilt above it to help reduce noise. Adding sliding pocket doors gives added flexibility as these can be opened up to increase the space whenever needed.
Produce a digital design guide
A digital design guide is an important tool to implement any changes as it provides clear instruction on how to use the planning grid and modular components. It also helps to maintain the overarching workplace planning strategy – particularly important for multiple sites, or if more than one design team is involved in works over time.
Taking this strategic, modular design approach allows building owners and tenants to continually refine the workplace to better suit the business and people's needs. In the long term, this is also cost-effective as changes will be easy to implement and have minimal impact on the existing services and building structure.