Workplace design plays a crucial role in staff wellbeing and productivity. As designers, we can help create environments where people love to live and work. It's not just about designing spaces that support people's individual wellbeing. It's also about encouraging a positive working culture to sustain a healthy, stress-free workplace in the long term.
The World Health Organization (WHO) has officially recognised 'burn-out' as a medical condition, describing it as "chronic workplace stress that has not been successfully managed". Exhaustion, negativity, and 'reduced professional efficacy' are just some of the symptoms associated with the condition.
The WHO has also published some concerning statistics. In 2018, 74% of British workers felt so stressed that they were 'overwhelmed or unable to cope' and 67% of people believed stress caused them both mental and physical ill-health.
Taking time out, moving around and exercising as well as interacting socially with colleagues are a few ways to help reduce stress at work and improve wellbeing. While these solutions are down to the behaviour of individuals, the design of a workplace has a crucial role in supporting these behaviours and on a bigger scale, can even help to change the workplace culture.
The workplace as a separately defined type of space is evolving. A holistic approach to workplace design provides a combination of spaces and facilities which balance business requirements with staff wellbeing. A new generation of workplaces are now blending elements of residential and hospitality design to provide a richer, hybrid environment.
Tea points and break outs are no longer the only places to 'take time out'. Increasingly, we are integrating exercise spaces, chill-out areas and treatment rooms into our designs. We are taking design cues from non-corporate settings, selecting furniture, finishes, fabrics and lighting to create comfortable and enjoyable spaces to be in.
These 'other spaces' provide opportunities for accidental meetings, which are encouraged by strategically positioning social areas and shared facilities. Locating these spaces next to the primary circulation, between different teams, ensures these spaces are accessible and convenient – contributing to a more dynamic working environment that promote a more interactive, collaborative working culture.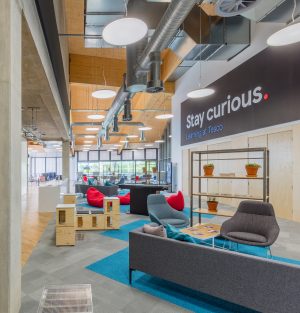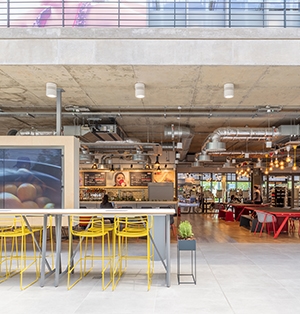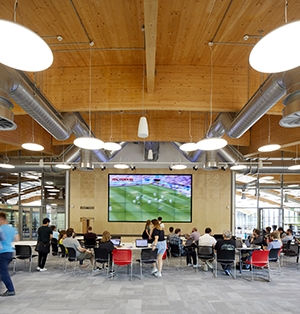 Workplace environments can be a catalyst for positive cultural change, encouraging movement, openness and interaction. For example, the Heart Building (pictured above) is a new social and work hub at Tesco's Welwyn Garden City head office campus. Described by the Times Newspaper as "the physical embodiment of change," the building provides a wide variety of flexible, vibrant work and meeting spaces, as well as shared facilities such as restaurants and a gym, that are bringing people together from all areas of the business.
15.4 million days lost last year to work-related stress and anxiety, so it makes commercial sense to do everything possible to address the issue. Creating environments that positively impact people's wellbeing is essential, but we also need to go right to the heart of the matter and ensure that the work environment supports a healthy workplace culture.
To find out more about designing healthy, collaborative workplaces, contact LOM director Simon Marett.